BEHIND THE SCENE OF CHIKO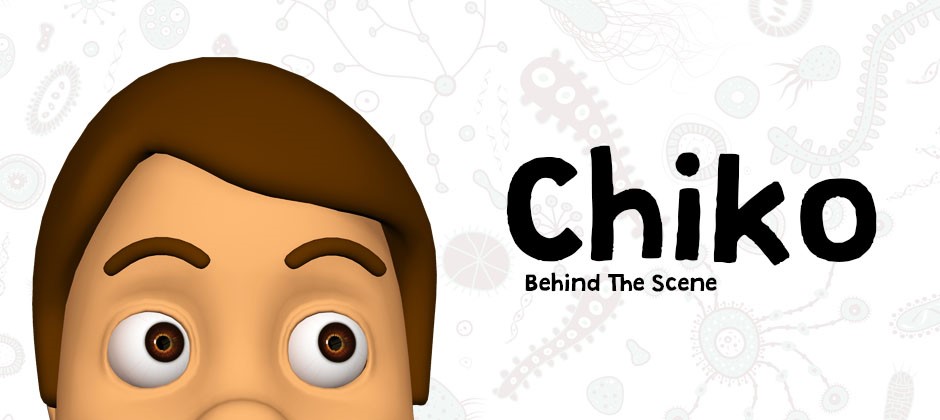 Film animasi yang berjudul Chiko adalah sebuah film pendek yang menceritakan tentang kisah kehidupan yang seringkali terjadi di kehidupan sehari-hari. Dalam film ini, Chiko yang duduk dibangku kelas 5 SD ini mengalami sakit gigi pada hari menjelang Natal tiba. Chiko yang penakut ini akhirnya dengan terpaksa memberanikan diri pergi ke Dokter Gigi dengan Mama. Cerita sederhana ini bertujuan untuk mengingatkan anak-anak supaya lebih rajin untuk merawat kesehatannya terutama kesehatan gigi.
Cerita Chiko diadaptasi dari sebuah komik Hai! Miiko karya Ono Eriko. Komik karya Ono Eriko ini banyak menceritakan masalah kecil yang sering terjadi di kehidupan sehari-hari dan dikemas dengan humor yang sangat menarik dan moral yang disampaikan dapat diterima dengan mudah. Kesehatan gigi adalah hal terkecil yang seringkali terlupakan. Dampak yang akan terjadi jika tidak menjaga kesahatan gigi dan mulut seperti contohnya bau mulut yang menyebabkan kurangnya percaya diri untuk berbicara dengan lawan bicara. Selain itu, gigi yang berlubang menyebabkan kesulitan untuk berbicara dan makan.
Maka dari itu perlu adanya kesadaran sejak dini supaya anak lebih rajin lagi merawat gigi mereka. Sebuah cerita sederhana yang menceritakan kisah seorang anak kecil bernama Chiko yang mengalami sakit gigi yang mengakibatkan dia tidak bisa menikmati makanannya. Melalui film ini penulis berharap dapat menyadarkan anak-anak untuk lebih rajin menjaga kesehatan gigi mereka dengan cerita yang sederhana.
Dalam film animasi pendek ini, penulis menggunakan 2 karakter utama yaitu Chiko dan Mama, dan 3 karakter pendukung yaitu Papa, Nenek, dan Dokter. Ada 2 tempat untuk environment yaitu rumah, klinik gigi.
Kejadian dan peristiwa kecil yang seringkali terjadi di kehidupan sehari-hari yang biasa dialami oleh setiap orang. Peristiwa kecil tersebutlah yang biasanya banyak diangkat menjadi sebuah cerita yang menarik juga sebagai pembelajaran untuk kedepannya. Dalam film ini, penulis ingin memberikan sedikit pelajaran untuk setiap orang terutama untuk anak-anak agar lebih memperhatikan kesehatan diri. Selain itu juga diharapkan bisa memberikan tontonan yang layak untuk anak.
Penulis.
Maria Sabrina Herman