The Making of "Kemasan: Arti Sebuah Kecantikan"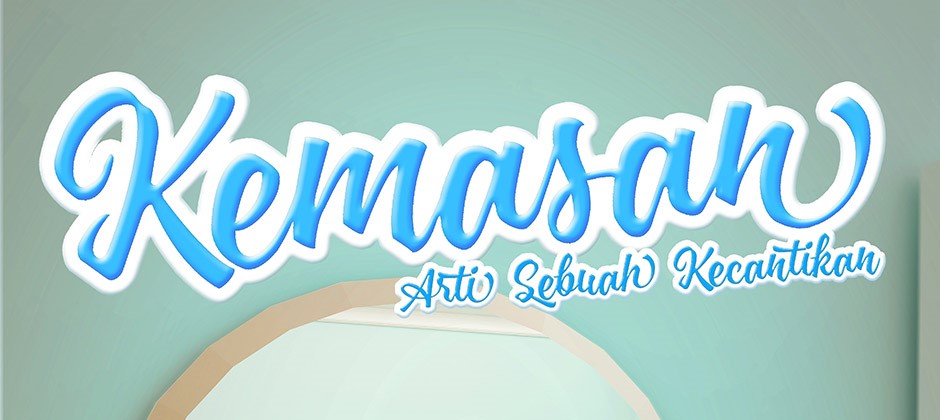 Kemasan: Arti Sebuah Kecantikan " merupakan sebuah animasi pendek  yang menceritakan seorang gadis yang ketergantungan pada makeup. Memakai makeup tidaklah salah karena pada dasarnya makeup dibuat untuk membantu mempercantik wajah, namun perlu diperhatikan bila seseorang jangan sampai kehilangan kepercayaan dirinya karena tidak menggunakan makeup.
Dalam pemilihan judul film, penulis memikirkan bagaimana membuat suatu cerita dengan judul yang bisa menjelaskan bagaimana inti dari cerita itu. Penulis memilik "Kemasan" sebagai metafor dari fisik/tubuh. Kemasan biasanya digunakan untuk membungkus suatu benda, makanan, atau produk. Saat ini banyak kemasan produk yang "didesain" sedemikian rupa untuk menarik perhatian konsumen sehingga kini banyak konsumen yang membeli produk karena kemasannya.
Sama Halnya dengan kemasan pada produk, setiap orang khususnya wanita juga "mendesain" perawakannya dengan menggunakan makeup dan berbusana. Oleh karena itu penulis menggunakan "kemasan" sebagai judul utama film ini.
Media sering kali meberikan asumsi kepada penonton bahwa cantik itu berkulit putih. Hal ini sangat jelas terlihat, salah satunya seperti iklan produk kecantikan yang ditawarkan selalu untuk memmutihkan diri. Sehingga muncul presepsi cantik itu kulitnya putih. Melihat hal ini penulis memilih "Arti Sebuah Kecantikan" sebagai sub judul agar setiap individu meliki arti cantiknya masing-masing dan lebih percaya diri pada diri sendiri. Film animasi pendek berdurasi tiga menit.
Environment – Kamar Elle
Ruang kamar apartemen merupakan latar tempat utama yang dipakai dalam film animasi pendek ini. Semua kegiatan tokoh terjadi sebagian besar dilakukan didalam kamarnya. Penulis membuat scene gedung-gedung untuk menunjukan bahwa adegan dalam film ini diambil disebuah apartemen.
Character – Elle
Cuplikan
            Penulis berusaha membuat film animasi pendek ini singkat, jelas dan mudah dimengerti dan berusaha untuk membuatnya semenarik mungkin agar para penonton dapat menikmati film pendek ini dan mendapatkan pesan dari film ini. Namun penulis menyadari adanya banyak kekurangan dalan film animasi yang telah dibuat. Penulis telah berusaha semaksimal mungkin dalam riset, pengumpulan data dan produksi animasi Kemasan: Arti Sebuah Kecantikan. Penulis berharap Rancangan Komunikasi Visual Animasi Pendek "Kemasan: Arti Sebuah Kecantikan" ini dapat bermanfaat bagi yang membacanya dan video animasi yang penulis buat dapat bermanfaat bagi yang melihatnya.
Penulis
Irene Michelle M.