THE MAKING OF "DUWA WANG"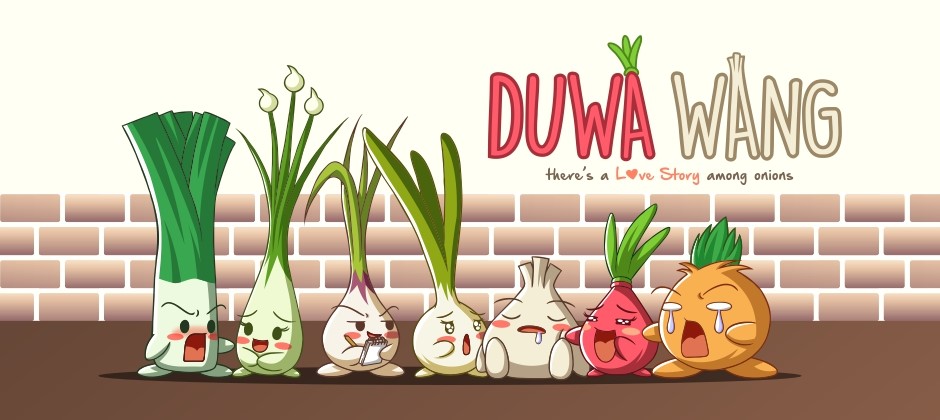 DUWA WANG adalah sebuah grup karakter desain dengan konten lokal bawang yang tampil sebagai produk Intellectual Property (IP). Dilatar belakangi oleh permasalahan jomblo dan permasalahan kurang majunya animasi Indonesia, maka dibuatlah karakter-karakter yang akan menceritakan tentang kisah cinta dan bertujuan untuk memperkenalkan budaya bawang-bawang Indonesia, sekaligus memajukan dunia animasi Indonesia untuk dapat bersaing secara lokal dan internasional.
Pembuatan Duwa Wang ini dimulai dari ide warna bendera Indonesia, yaitu merah dan putih yang kemudian menghasilkan kata kunci bawang merah dan bawang putih. Bawang merah dan bawang putih ini juga merupakan bumbu utama yang sering ditemukan dalam masakan Indonesia. Berdasarkan ide ini, maka penulis menentukan bawang sebagai ide karakter yang akan dibuat dalam proyek IP ini.
Sebelum terjun ke Duwa Wang versi sekarang ini, Duwa Wang hanya terdiri dari karakter bawang putih dan bawang merah lewat output pertama LINE sticker yang telah menjuarai juara 7 dalam kompetisi LINE sticker tahun 2015 kemarin. Hal ini menunjukkan bahwa banyak masyarakat menyukai desain karakter Duwa Wang yang sederhana ini dan mendukung dalam data yang kuat dalam hal tes konsumen dalam salah satu chat platform terbesar, yaitu LINE. Didukung dengan teori-teori, pernyataan, opini, observasi, dan riset-riset, maka penulis memutuskan untuk mengembangkan karakter IP Duwa Wang ini menjadi 7 karakter, yang berasal dari 7 jenis bawang-bawang yang diketahui di Indonesia, yaitu bawang putih, bawang merah, bawang bombai, daun bawang, bawang prei, kucai, dan lokio.
Dalam proses pembuatan IP Duwa Wang ini, penulis membuat output kedua yaitu film serial animasi. Serial animasi ini dikemas dalam bentuk 2D dengan teknik frame-by-frame animation yang dipadukan dengan teknik "shooting on twos", di mana setiap gerakan digambar secara manual dan setiap gambar tersebut mewakili 2 frame. Teknik ini diadaptasi dari teknik traditional animation/ cel animation yang digunakan oleh perfilman Disney.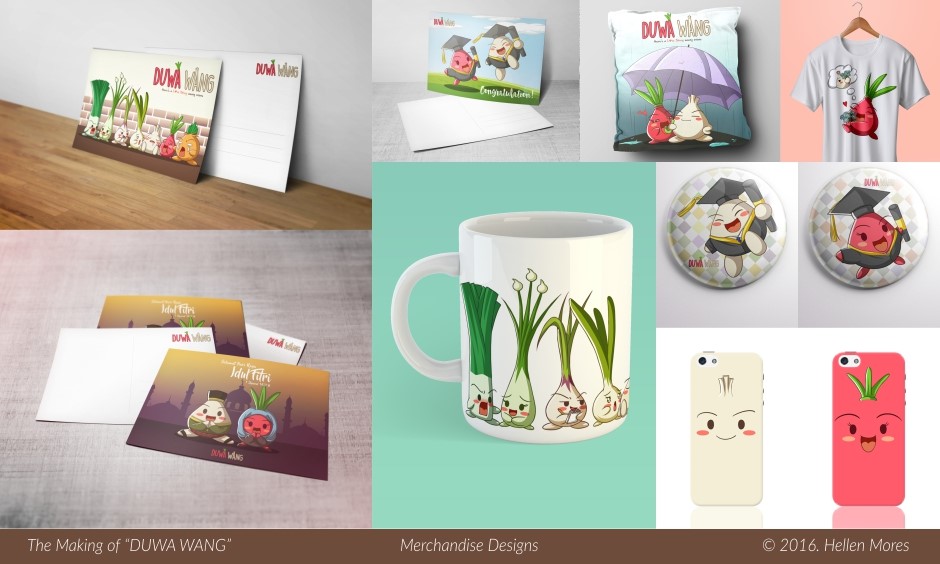 Output ketiga yang dibuat adalah merchandise. Pembuatan merchandise ini sangat penting dalam memperkenalkan produk IP. Pembuatan merchandise juga didasari oleh riset. Dalam hal ini, target konsumen yang ditentukan adalah untuk kalangan remaja. Hal ini perlu disesuaikan dengan tren remaja masa kini, misalkan zaman sekarang adalah zaman teknologi, sehingga pembuatan merchandise case HP akan cukup laku di pasaran. Selain case HP, pembuatan keychain, postcard, mug, T-shirt, pin, dan lain-lain juga dibuat sebagai merchandise IP Duwa Wang ini.
Untuk perkembangan ke depannya, IP Duwa Wang ini akan terus berkembang ke berbagai media lainnya, seperti media komik, game, maskot, dan lain-lain. Sesuai dengan tujuan yang telah disampaikan, melalui pembuatan IP Duwa Wang ini diharapkan dapat memajukan dunia animasi Indonesia melalui budaya lokal bawang dan bercerita tentang percintaan yang dikemas secara lucu, ringan, dan bersifat slapstick.
Penulis,
Hellen Mores