The Making of Star Sprite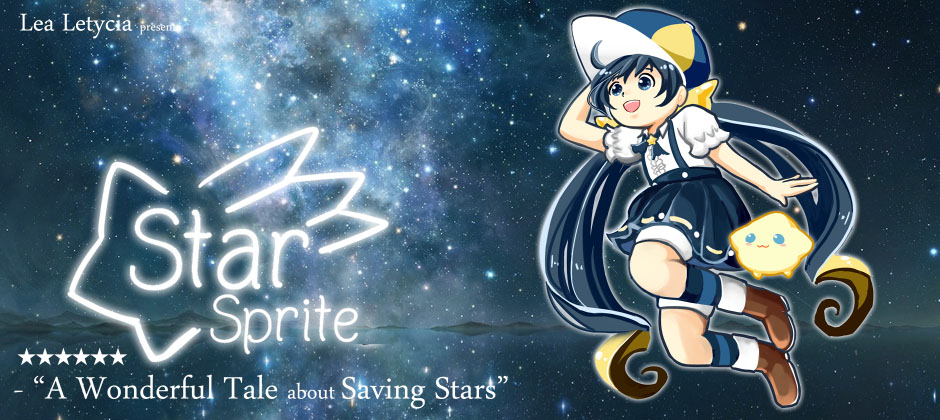 Star Sprite adalah Tugas Akhir yang berkategori IP (intellectual property).
Latar belakang yang mendorong proses pembuatannya adalah pengalaman penulis sendiri yang bertempat tinggal di Jakarta. Setiap kali memandang langit malam, bintang yang terlihat dapat dihitung dengan jari. Penulis memiliki kerinduan untuk dapat menikmati keindahan langit malam bertabur bintang, sehingga penulis mengangkat masalah ini sebagai tema Tugas Akhir.
Darkskiesawareness menyatakan, "Light pollution is excessive and inappropriate artificial light. Increased urban sky glow is responsible for the disappearance of the Milky Way from our night skies. The ongoing loss of a dark night sky for much of the world's population is a serious and growing ussue that not only impacts astronomical research, but also human health, ecology, safety, security, economics and energy conservation."
Sebagian besar masyarakat masih belum aware dengan polusi cahaya. Hal ini disebabkan karena dampak yang ditimbulkannya tidak memberikan efek negatif langsung secara ekstrim yang dapat membuat seseorang merasa jera, dan potensi keindahan bintang luput dari pemikiran mereka yang selalu dimanjakan oleh gemerlap lampu-lampu perkotaan. Hal ini tidak dibarengi dengan penyedian media yang bisa mengajak masyarakat untuk mengenal dan belajar mengenai bintang itu sendiri.
"Learning is most effective when it is fun." (Loomans dan Kohlberg, 1993)
Belajar dapat dilakukan dengan berbagai cara. Untuk menjadikan kegiatan belajar lebih efektif, cara belajar konvensional dapat diubah menjadi cara belajar melalui media game. Untuk alasan itulah, penulis mengaplikasikan IP pada game.
Game Star Sprite yang secara sederhana hendak meyampaikan bahwa jumlah bintang yang terlihat di langit berbanding terbalik dengan jumlah pencahayaan yang berada di bumi. memiliki ringkasan cerita, peri bintang yang awalnya menerangi langit malam, ditangkap oleh kelompok penjahat untuk diperjualbelikan sebagai penerangan di kota. Bersama dengan seorang gadis yang senang mengamati langit malam berbintang, peri bintang yang berhasil lolos dari proses penangkapan, hendak menyelamatkan seluruh teman-temannya, untuk kembali pulang untuk menerangi langit malam.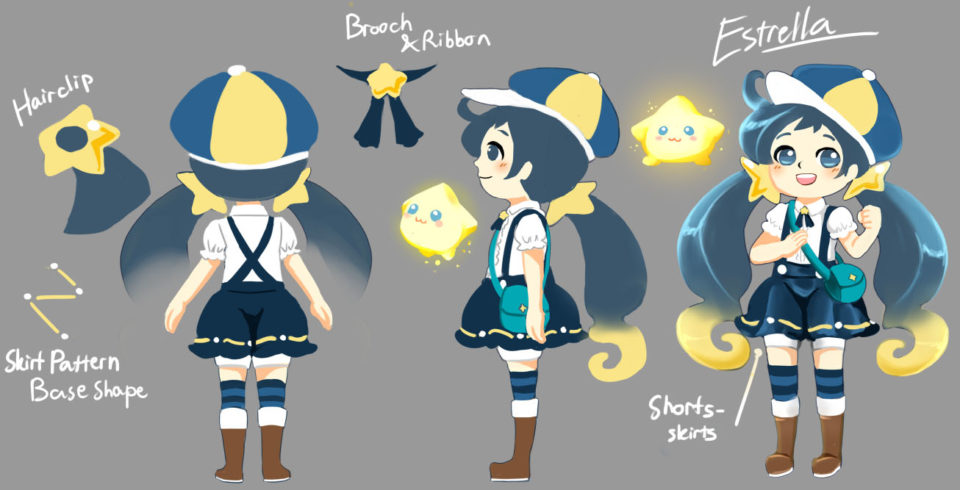 Tiga karakter utama dalam game Star Sprite adalah Estrella, Lite – star sprite yang berhasil lolos dari proses penangkapan, serta kelompok penjahat Black Skully Brothers.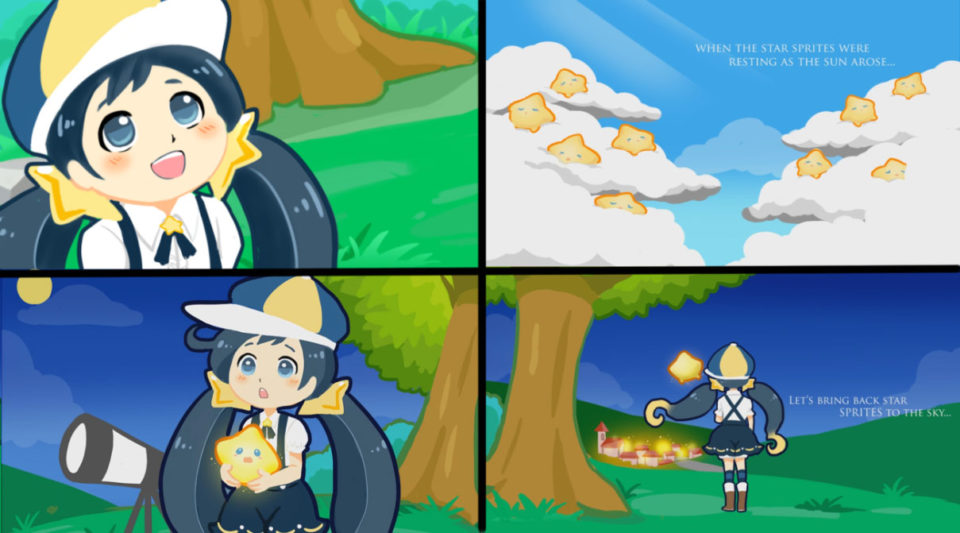 Perancangan Star Sprite memberikan contoh bahwa bagaimana dengan desain kita dapat ikut ambil bagian dalam gerakan positif – seperti usaha melestarikan lingkungan, dan membuktikan bahwa game tidak hanya dapat menjadi media hiburan tetapi juga sebagai media informasi, dan IP tidak selalu dibuat sepenuhnya hanya untuk tujuan bisnis dan keuntungan semata, namun juga dapat digunakan untuk memenuhi tujuan positif.
Jika dikembangkan lebih jauh, IP Star Sprite memiliki potensi untuk diajukan sebagai maskot organisasi atau gerakan astronomi.
Demikian pembahasan The Making of Star Sprite secara singkat dari penulis. Semoga bermanfaat bagi para pembacanya. Terima kasih atas perhatiannya!
Penulis.
Lea Letycia