The Making of Sura & Baya Motion Comic Short Animation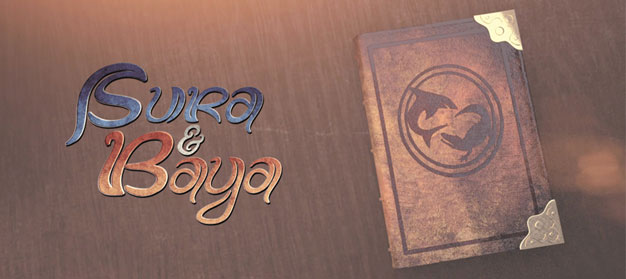 Animasi pendek Sura & Baya ini berdasarkan kepada kisah dibalik legenda kota Surabaya. Animasi pendek ini menceritakan tentang kisah perkelahian antara ikan hiu dan buaya yang tidak pernah berakhir. Ikan Hiu dan Buaya tersebut kemudian dikenang sebagai lambang dari kota Surabaya.
Penceritaan animasi pendek ini menggunakan teknik motion comic dan bergenre action-supranatural. Penulis mengambil referensi berdasarkan komik-komik Jepang dan Amerika lalu mencoba menggabungkan kedua gaya tersebut.
Tujuan Penulis membuat animasi pendek ini adalah untuk menyampaikan cerita dan juga menyebarluaskan cerita tersebut kepada target penonton yang berusia remaja.

Dalam pembuatan desain karakter, penulis menjadikan karakter ikan hiu dan buaya dalam bentuk manusia atau menyerupai manusia karena penulis ingin melibatkan penonton sehingga diharapkan penonton akan merasa tertarik.
Untuk desain Environment penulis memilih beberapa environment yaitu, hutan, sungai dan pantai. Hutan dan Sungai merupakan tempat tinggal Baya si Buaya, sedangkan Pantai merpakan tempat tinggal Sura si Ikan Hiu. Mereka berdua tinggal di daerah yang berbeda, namun berdekatan. Maka dari itu penulis menggambarkan kedua environment tersebut berdekatan.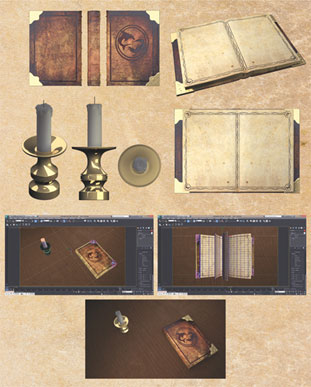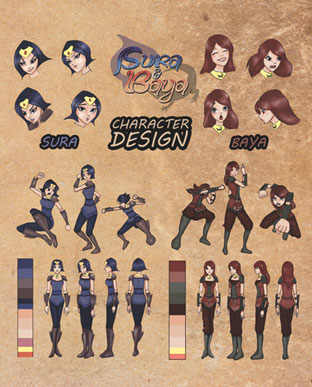 Dalam perancangan animasi pendek ini, penulis menginterpretasikan cerita legenda dalam bentuk visual sebuah buku. Untuk lebih menonjolkan genre supranatural , penulis membuat tulisan dan gambar dalam buku akan muncul dan menghilang dengan sendirinya. Dalam scene buku tersebut penulis mengeksekusi dalam teknik tiga dimensi dengan aplikasi Autodesk 3dsmax dan Adobe After Effects.
Sedangkan dalam isi cerita atau motion comic itu sendiri, penulis mengeksekusi dalam teknik dua dimensi dimana semua asset penulis menyelesaikan sendiri dengan menggunakan aplikasi Adobe Photoshop dan untuk hasil akhir penulis melakukan pergerakan animate dengan aplikasi Adobe After Effects.

Dalam tahap konsep, penulis mengalami sedikit kesulitan dalam mengembangkan cerita, namun akhirnya penulis dapat menyelesaikannya karena adanya beberapa saran dan ide yang didapatkan dalam proses pembuatan atau proses produksi film. Dalam tahap desain, penulis juga terbantu dengan banyaknya referensi yang dapat penulis cari melalui media internet juga beberapa saran dan kritik dari orang lain.
Penulis
Cut Sarah Medina