THE MAKING OF CHARACTERS IN "THE SCARECROW"
"THE SCARECROW" adalah sebuah animasi 3D pendek berdurasi 3 menit yang ber-genre drama friendship. Animasi pendek ini menceritakan tentang orang-orangan sawah atau Scarecrow yang kesepian dan ingin memiliki teman.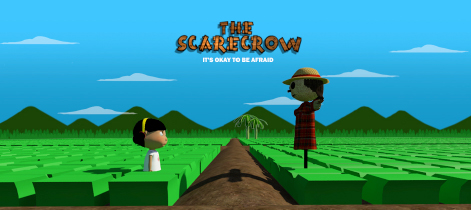 Kesehariannya sangat membosankan. Terbangun dari tidur, hanya sawah yang luas dan seorang petani yang ia lihat. Ia ingin memiliki teman. Burung yang seharusnya adalah musuhnya pun ingin ia jadikan teman. Namun, ia selalu gagal karena semuanya takut kepadanya. Hingga suatu hari, ia bertemu seorang gadis kecil yang akan mengubah hidupnya.


Dalam animasi pendek ini terdapat tiga karakter. Yaitu; Scarecrow, Gadis Kecil, dan Petani. Proses pembuatannya pertama-tama saya mencari referensi-referensi untuk setiap karakter disesuaikan dengan sifat mereka masing-masing. Referensi karakter-karakter tersebut didapat melalui karakter dalam animasi-animasi lainnya. Setelah menemukan semua referensi, saya mulai menggambarkan konsep 2D-nya yang kemudian akan di asistensikan ke dosen pembimbing. Setelah konsep karakter jadi, dilanjutkan ke pembuatan 3D setiap karakter menggunakan 3DS Max.
Berikut adalah konsep 2D dari setiap karakter: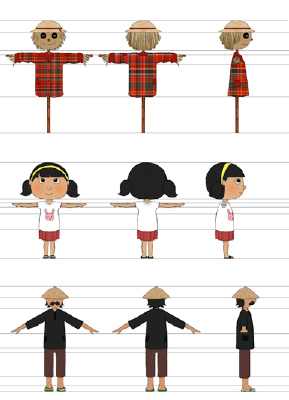 Dan berikut adalah dalam bentuk 3D:


Dengan pembuatan animasi pendek The Scarecrow ini, saya berharap agar animasi ini dapat menghibur semua masyarakat yang menontonnya, baik muda maupun tua.
Penulis,
Rizky Imansari Soraya