Short Animation "Flower Crown" by Jufeity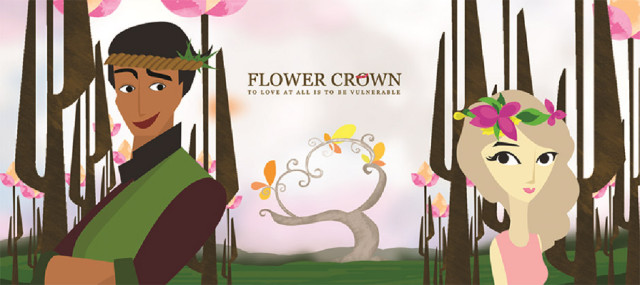 "Flower Crown" merupakan animasi pendek yang dibuat karena terinspirasi dari sebuah kutipan karya C.S. Lewis yaitu To love at all is to be vulnerable, Animasi dibuat dalam bentuk 2D yang dalam pengerjaannya menggunakan program Adobe After Effect dan Adobe Premiere.
Character
Film Animasi Flower Crown memiliki 4 tokoh, yaitu tokoh utama bernama Ilona dan Rai, 2 tokoh pendukung yaitu peri laki-laki jahat dan peri wanita baik.
Ilona
Ilona adalah seorang peri cantik yang polos dan lugu, hatinya di lukai oleh kekasihnya dan memutuskan untuk menutup hatinya rapat- rapat, namun pada akhirnya Ilona bertemu Raid an membuka hatinya kembali karena pelajaran hidup yang ia dapatkan. Pemilihan bentuk dari Ilona banyak menggunakan garis lengkung agar menimbulkan kesan pribadi baik dan aman.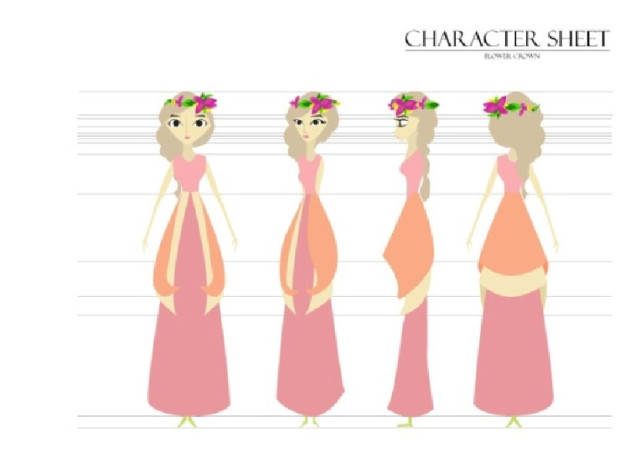 Rai
Seorang peri laki-laki yang ramah, ceria dan suka menolong, walaupun terkadang Rai sangat iseng dan suka menggoda Ilona. Rai datang dalam kehidupan Ilona dan membawa harapan dan cerita baru bagi Ilona.
Rai memiliki wajah yang tampan dan bahu yang lebar untuk menunjukan kesan tubuh yang dinamis dan merupakan bentuk tubuh yang ideal. Rai memakai mahkota yang sederhana untuk menunjukan sisi dirinya yang easy going dan rendah hati.

Peri Laki-Laki Jahat
Peri laki-laki jahat memiliki bentuk yang lancip- lancip untuk menunjukan sisi dirinya yang tajam dan sinis, peri laki-laki jahat ini memiliki kepribadian yang sangat buruk, bentuk ujung luar mata dibuat naik ke atas agar menimbulkan kesan pemarah dan jahat.

Peri Wanita Jahat
Peri wanita jahat memiliki dagu yang lancip sehingga menimbulkan kesan jahat, bentuk tubuh dibuat seksi agar terkesan suka menggoda, warna rambut dibuat warna warni agar menimbulkan kesan bahwa peri wanita ini memiliki kepribadian yang ingin tampil mencolok dari pada yang lain dan suka mencari perhatian.

POSTER
Berikut ini adalah desain poster dari film pendek "Flower Crown" :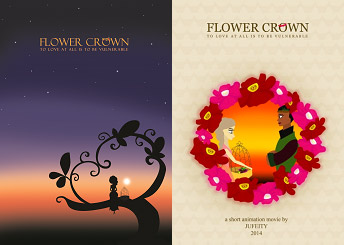 SCREENSHOOT
Berikut ini adalah screenshoot dari film pendek "Flower Crown" :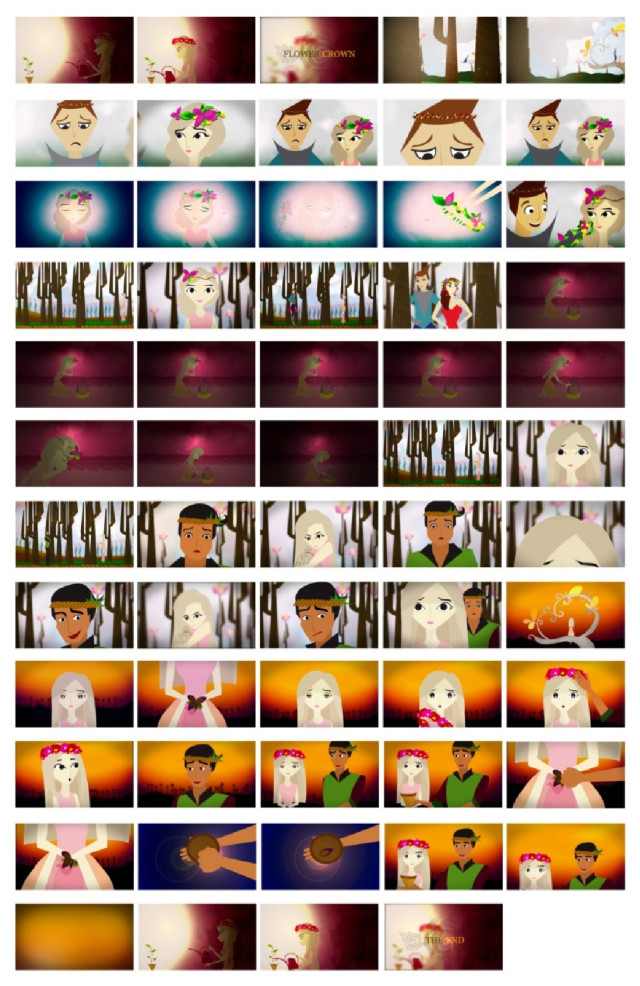 Demikian sekilas mengenai film animasi pendek "Flower Crown" ini, Semoga dapat bermanfaat dan menginspirasi Anda.  Animasi pendek ini dapat Anda lihat di http://youtu.be/CM6VlmjsEV4