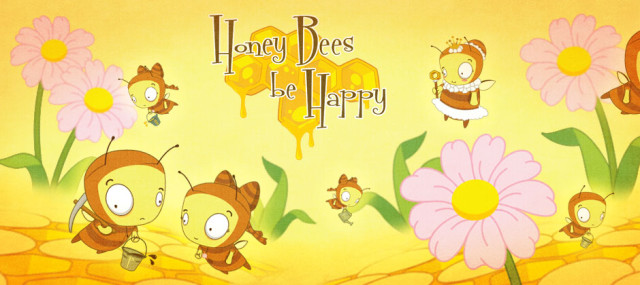 Honey Bees Be Happy adalah sebuah animasi edukasi dua dimensi yang menjelaskan tentang kehidupan dari sebuah koloni lebah madu, dimana didalamnya dijelaskan bagaimana proses hasil produksinya seperti madu, bee-pollen, royal jelly, dan propolis itu dimulai hingga proses pengemasan dan akhirnya jatuh ke tangan konsumen.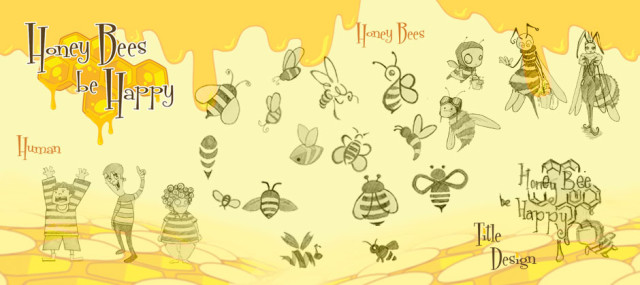 Hal pertama yang saya lakukan dalam pembuatan animasi Honey Bees Be Happy adalah menentukan sebuah masalah yang akan diangkat, yang selanjutnya membuahkan ide gagasan dalam memecahkan masalah tersebut, dan tidak lupa untuk mendukung ide tadi saya mengumpulkan semua data berupa referensi, data survei, dan data pembanding guna mengembangkan konsep cerita dan karakter-karakter yang akan muncul dalam animasi edukasi ini.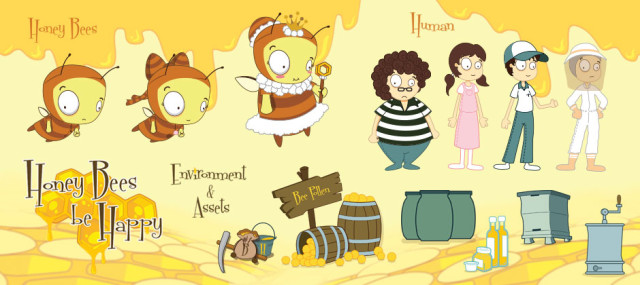 Berdasarkan data survei yang saya dapatkan, mayoritas subyek menginginkan karakter-karakter yang akan muncul itu imut dan lucu. Oleh karena itu, saya mencari referensi bentuk dan warna sebagai pedoman dalam mendesign karakter tersebut. Salah satu contohnya karakter lebah jantan saya, dimana lebah itu terlihat lucu dan bodoh dengan ukuran kepalanya yang besar dan penyesuaian peralatan yang dibawanya dengan tubuhnya yang kecil itu. Tahap selanjutnya yaitu tahap produksi, dimana dalam tahap ini saya harus merekam suara untuk digunakan sebagai narasi dalam film dan mengubah sketsa dasar saya menjadi sebuah asset 2D baik karakter, obyek properti maupun environment yang telah disesuaikan dengan storyboard dan animatik untuk siap di animasikan.
Proses editing dan compositing, dimana tahapan post-produksi ini saya harus menyesuaikan timing antar cut dengan menyisipkan efek transisi diantaranya sehingga pada saat menyelaraskan dengan irama musik dan narasi tidak mengalami kesulitan. Kemudian pada tahap compositing saya menambahkan filter dan vignette untuk memberikan mood yang ceria dan hangat.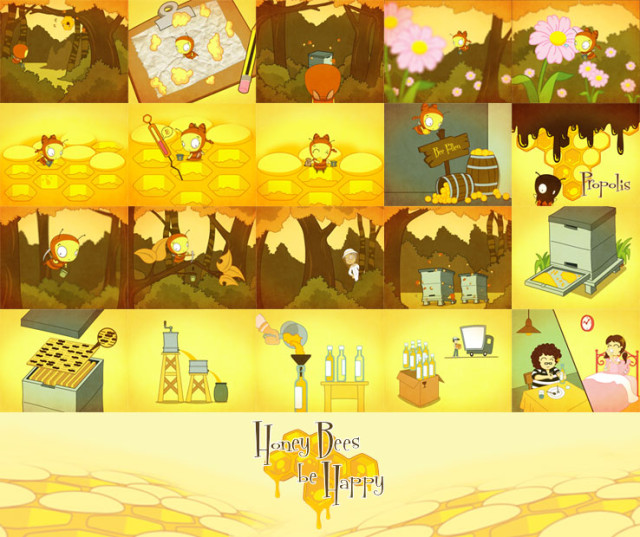 Demikian kilasan tahap-tahap dalam pembuatan animasi edukasi Honey Bees Be Happy. Semoga bermanfaat dan membantu anda dalam berkreasi.