The Making Of Short Animation "Alter Ego"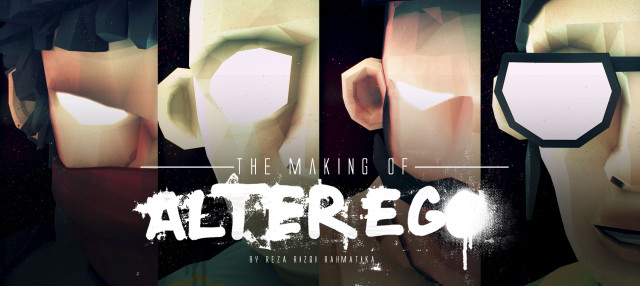 Graffiti adalah sebuah karya seni yang masih pro dan kontra di Indonesia. Banyak yang mengganggap graffiti hanya coretan yang tidak jelas dan banyak juga yang mengganggap graffiti sebagai sebuah karya seni. Dalam garis besar graffiti adalah sebuah pengekspresian diri seseorang terhadap lingkungan sekitarnya, yang dituangkan langsung di ruang publik seperti tembok.
Alter Ego adalah sebuah film animasi pendek karya Reza Rizqi Rahmatika yang menceritakan tentang seorang pemuda yang membuat graffiti untuk menyemangati adiknya yang sakit. Alter Ego itu sendiri berarti sebuah identitas pribadi yang lain, yang diciptakan oleh seorang individu ketika ia tidak sadar berusaha mencapai sesuatu.


Terdapat empat karakter dalam animasi film pendek ini dengan pribadi yang berbeda, yang mana pendeketan visual dalam film animasi "Alter Ego" ini akan mengacu pada penyerderhanaan bentuk dalam penciptaan karakter dan environmentnya. Dikemas dengan bentuk 3D dan dibalut oleh style low poly yang mana akan menimbulkan kesan urban pada sisi karakternya serta mata yang menyala sehingga tatapan mata seolah-olah kosong untuk menekankan kesan suasana yang kelam  serta keputus asaan pada film ini.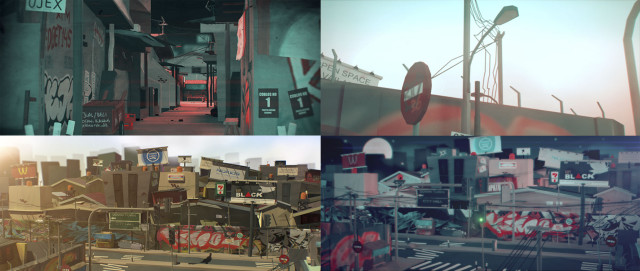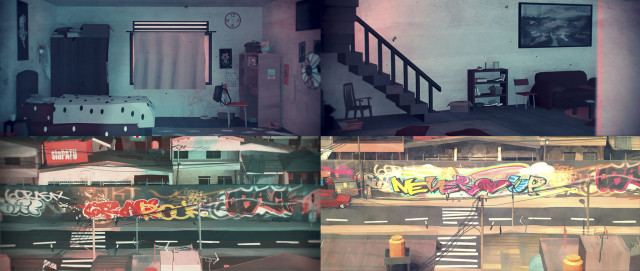 Dalam animasi film pendek "Alter Ego" ini, terdapat 4 environment dengan 4 lokasi berbeda, gang jalan dimana tempat sang pemuda berlari menuju tempat pembuatan graffiti, yang kedua adalah tembok di pinggir jalan dimana tempat sang pemuda membuat graffiti, yang ketiga adalah  ruang tamu rumah, dan yang terakhir adalah kamar adik. Selain itu terdapat juga perubahan waktu pada malam hari serta pagi hari.

Graffiti sangat berperan penting di dalam film animasi ini, penulis ingin memperlihatkan perbedaan graffiti dan yang hanya corat-coret biasa. Maka dari itu disini penulis berusaha mengumpulkan beberapa graffiti ilustrasi dari teman-teman graffiti artist di Indonesia khususnya di Jakarta.
Berikut screenshot dari beberapa scene dalam animasi film pendek Alter Ego ini :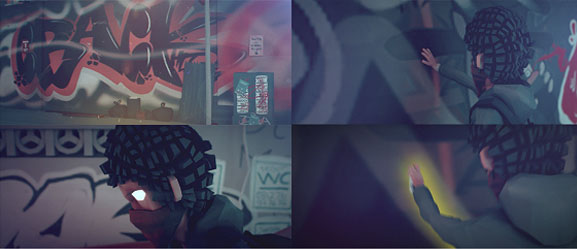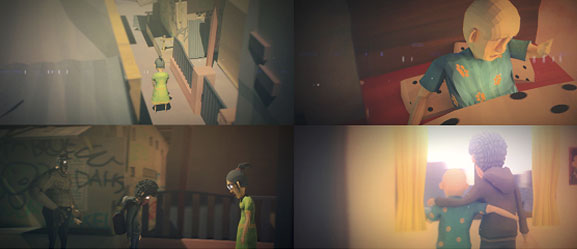 Demikian sekilas proses perancangan animasi film pendek "Alter Ego" ini. Semoga artikel ini dapat bermanfaat dan menginspirasi. Terima kasih. MAJU TERUS ANIMASI INDONESIA !
Penulis,
Reza Rizqi Rahmatika