The Making of "Ratakus si Rakus" by Irfania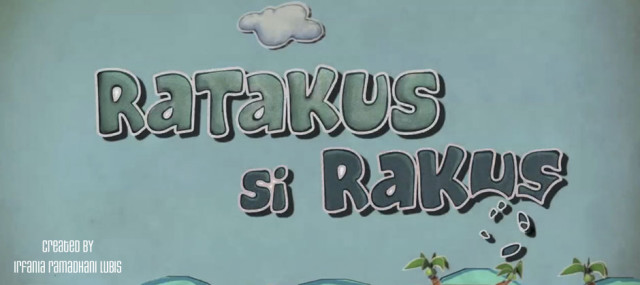 Ratakus si Rakus merupakan film pendek animasi 3D yang bercerita tentang seekor monster yang rakus bernama Ratakus. Ratakus yang serakah tidak ingin berbagi kepada monyet, Molu dan sapi, Pimoo. Tujuan dari film pendek ini adalah untuk mengingatkan dan menyampaikan pesan akan bahayanya keserakahan. Gaya visual yang diangkat dalam film ini adalah cut-out style, dimana karakter flat seperti terbuat dari kertas, namun lingkungannya memiliki volume dan seperti terbuat dari kardus.
Awal pembuatan film ini, dilakukan brainstorming cerita dan desain karakter. Cerita ratakus si rakus terinspirasi dari pesan bahwa orang yang serakah akan kena batunya. Film ini dikemas dengan sedikit komedi, menggunakan karakter lucu dan menarik. Juga mengusung gaya visual yang tidak biasa. Cerita dibuat sederhana agar dapat menyampaikan pesannya dengan baik. Dari cerita dibuat storyboard dan animaticnya. Pada proses animatic ini disesuaikan juga efek suara dan musik latar.

Karakter desain dari film ini disesuaikan dengan sifat masing-masing karakternya. Seperti pada Ratakus yang dominan, diberikan tangan yang besar dan badan yang tinggi besar. Karena rakus, Ratakus mempunyai mulut yang sangat lebar dan besar saat makan. Untuk mendapatkan gaya khas cut-out, pada modelling  3D bagian tubuh karakter dipisah-pisah dan ditumpuk. Teksturnya menggunakan metode painting yang di multiply ke tekstur kertas cat air. Tekstur juga memiliki alpha map, agar dapat dipotong.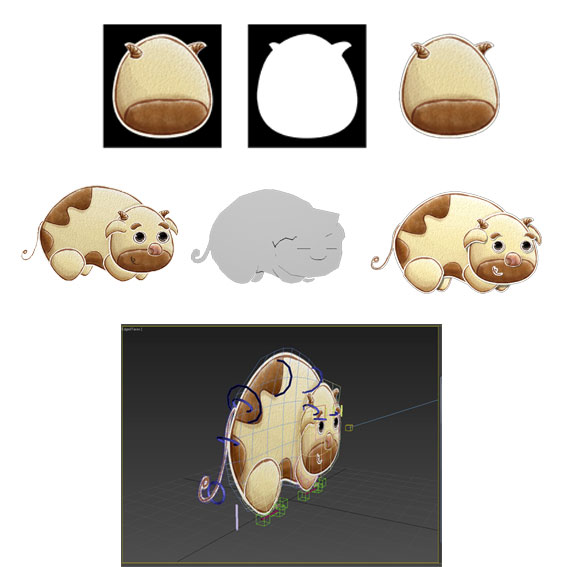 Proses rigging, menggunakan rigging bone manual. Karena bentuk karakter yang flat, membuat setiap sisi memiliki rigging sendiri. Yaitu tampak samping, depan, dan ¾. Ekspresi dianimasikan dengan material id. Setiap ekspresinya digambar dan digabung dalam satu tekstur. Animasi badan menggunakan rotasi lokal agar semakin terlihat seperti kertas dan flat.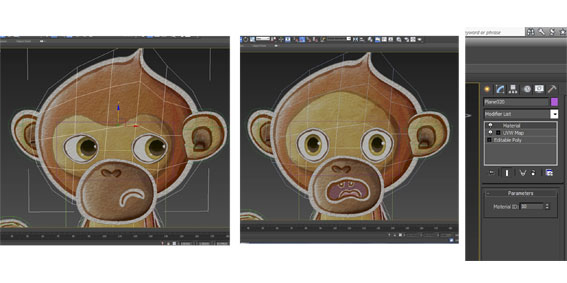 Setelah animasi selesai, dilakukan proses lighting dan render. Karakter dan lingkungan di render terpisah agar mudah dalam proses compositing-nya. Penggunaan vignette dalam komposisi dimaksudkan untuk menambah efek dramatis dan lebih fokus kepada karakternya. Hasil compositing digabungkan menjadi satu film utuh.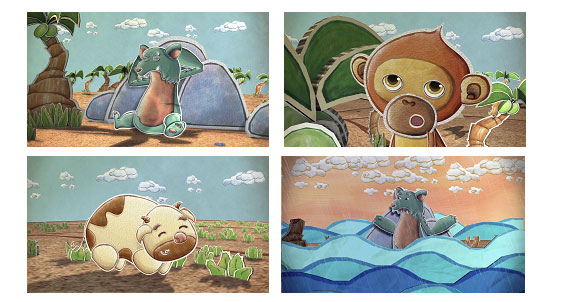 Film animasi pendek Ratakus si Rakus ini ingin menyampaikan pesan bahwa keserakahan bukanlah hal yang baik. Semoga dengan adanya film ini dapat menginspirasi kita untuk menjauhi keserakahan. Juga menginspirasi untuk menjadikan animasi Indonesia menjadi lebih baik dan lagi.