The Making Of "Turtle Shell"
Turtle Shell adalah sebuah film animasi yang diangkat dari sebuah kisah dongeng fabel berjudul "kura-kura sang juara" yang bercerita mengenai seekor kura-kura rajin bernama Haru yang makanannya selalu diambil oleh seekor kucing jahil bernama Koko. Karena Koko berlari dengan cepat, Haru tidak pernah berhasil mengambil kembali ikan miliknya. sehingga pada akhirnya ia pun mulai mencari cara untuk mengambil ikannya kembali, dari sana pula ia mulai belajar mengenai kemampuan yang dimilikinya.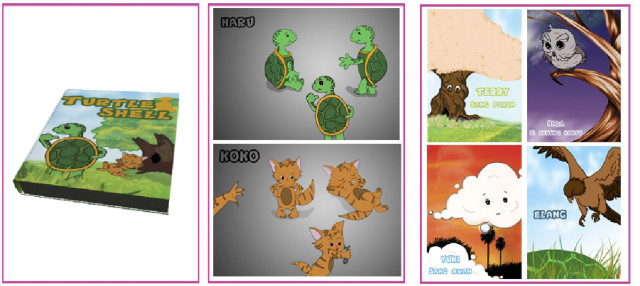 Turtle Shell ini merupakan karya tugas akhir Clara yang bertemakan menganai dongeng dan dibuat dengan pendekatan pop up 3d animation. Pada artikel ini saya akan  membahas mengenai perancangan tokoh dan karakternya.
Pada proses pembuatan Turtle Shell, saya memulainya dengan konsep cerita dan juga sketsa karakter dari masing-masing tokoh film ini. Penentuan warna dan juga bentuk karakter sangatlah penting, karena ini adalah film dongeng yang tujuan utamanya adalah anak-anak, saya membuat karakter dengan bentuk yang tidak kaku sehingga bisa disukai oleh anak-anak. dengan warna-warna cerah yang disukai anak dan memiliki makna tersendiri sesuai dengan sifat karakter masing-masing dalam cerita tersebut.  karakter yang saya buat berbentuk 2D karena akan digunakan dalam pop up book. sehingga bisa menampilkan kesan 2D (seperti gambar tangan dalam pop up book aslinya)
Berikut ini adalah beberapa scene yang di capture dari film "Turtle Shell" ini: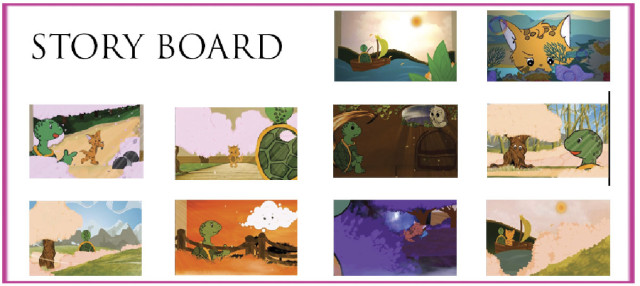 Dan berikut ini adalah poster, x-banner, dan poster storyboard dari film animasi "Turtle Shell"
Demikian sekilas proses pembuatan film Turtle Shell yang saya buat. Semoga bisa dapat bermanfaat atau menginspirasi Anda. Terima kasih. ☺