"Invention of Love" Roman Animasi Dalam Siluet Yang Memukau
Jika dihadapkan pada pertanyaan apakah anda bisa menebak wajah seseorang dari siluetnya saja? Jawabannya mungkin tidak setiap orang sama. Tetapi jika pertanyaannya tentang siluet orang yang lagi di "mabuk cinta" mungkin banyak menjawab bisa. Dalam konteks ini, sebuah film animasi berjudul "Invention of love" memberikan tontonan unik tersendiri bagi penontonnya.
Invention of Love adalah film yang menyajikan gambar secara unik. Film animasi yang berdurasi sekitar 9 menit ini  merupakan produksi dari HHG Film Company yang dirilis tahun 2010. Film ini di tulis dan sutradarai oleh Andrey Shushkov. Keunikan film ini dari sisi visualisasi yang unik, yaitu penggambaran karakter dalam bentuk siluet sepanjang film.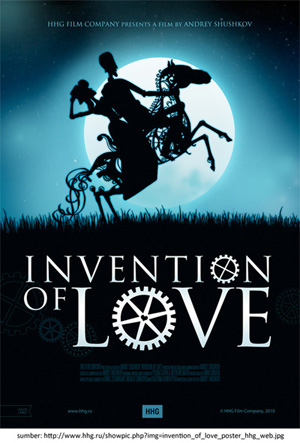 Kisah bermula dari seorang gadis yang menyukai bunga, kemudian didatangi oleh seorang pemuda yang mengendarai kuda. Yang unik bukan kuda binatang hidup, tetapi kuda mekanik yang mirip robot. Dari sini kita bisa melihat keunikan tersebut.
Cerita berlanjut dari perkenalan hingga ke jenjang pernikahan. Sepanjang sepertiga film kita akan disuguhi satu nuansa warna yang kebiru-biruan kala menggambarkan keceriaan, hingga berangsur-angsur makin gelap saat cerita makin suram. Walaupun siluet, film ini tetap menyajikan kemudahan komunikasi bagi penontonnya. Tidak terlihat adanya bagian yang susah dimengerti.
Dalam teori animasi, dikenal adanya prinsip 12 gerak animasi. Salah satu poin 12 prinsip animasi adalah kejelasan mimik atau ekpresi muka. Film ini justru meniadakan visualisasi mimik atau ekspresi muka karakternya. Namun demikian penonton malah menemukan kenikmatan tersendiri dalam memahami "akting" dan jalinan ceritanya.
Jika pembaca ingin menikmati film ini cukup telusuri di youtube dengan kata kunci "invention of love", anda akan menemukannya.
"Invention Of Love"  (2010)
Inspired By Lotte Reiniger Works And Antony Lucas's Jasper Morello Film.
Written & Directed By Andrey Shushkov
Original Music And Sound: Polina Sizova, Anton Melnikov.
Violin Perfomed By Anna Gudkova
Animation, Design, Compositing, Editing: Andrey Shushkov
* Reference Link: Http://Www.Youtube.Com/User/Hhgru